I'm guessing you feed your dog in a boring bowl?
If that's the case, have you considered the benefits of a snuffle mat?
I've been feeding my dog Maisy for over a year now on a snuffle mat I bought in K-Mart. Granted it's not the best snuffle mat, but it's done the job, and the benefits are clear.
Snuffle mats are a great way to keep your dog occupied, which means they will benefit from the mental stimulus they simply won't get from being fed in a bowl.
They're also cheap – I paid $15 in K-Mart – but there are lots of options, or you can make one yourself DIY style.
Let's snuffle a bit more into the following topics:
What are snuffle mats and how do they work?
Snuffle mats fit in the category of "interactive dog toys", which means they're great for keeping your dog occupied, and happier than they would be without one.
They're mostly made of soft, durable material, such as fleece, with long shaggy fibres or strips.
When you sprinkle a snuffle mat with treats or dog food, the pieces will be spread out and hidden from your dogs view.
Your dog loves to forage, using their sense of smell and natural instincts, to dig around in the snuffle mat for their food.
The benefits of snuffle mats are clear and simple. So simple in fact, you'll wonder why you haven't bought one already:
Snuffle mats provide mental stimulation and a fun physical activity to keep them occupied – a great boredom buster, leading to reduced anxiety and stress.
If your dog tends to gulp food a snuffle mat will slow them down.
Slowing down your dog's eating aids in digestion and can prevent bloating.
Snuffle mats help build confidence and problem-solving skills which can lead to your dog becoming more intelligent (combined with other boredom busters of course).
The funky and colourful designs make a great addition to your home (yes, this is more of a benefit to you, rather than your dog – I have the Lion snuffle mat from K-Mart!
What food or treats should you use in a snuffle mat
I'll cut to the chase here, as this is your most important consideration when using a snuffle mat.
Far too many people sprinkle them with treats, simply because they see it as giving their dog a game to play, and games need exciting rewards.
Proper, healthy food is as exciting for your dog as any cheap treat.
Small and toy breeds can really suffer from health issues from what I call over-treating. Facts are facts, and in Australia most dog treats don't meet any requirements, and are usually nothing more than wheat, sugar, and humectants (to keep them soft).
None of these ingredients are healthy for your dog, or dare I say – pet carnivore.
All breeds can suffer from too much of these treats in their diet, and they're definitely not needed (they're gimmicky products targeted at you, not your dog), but I find snuffle mats are more popular with small and toy breed dog owners, which makes it more of a risk.
Sprinkle your snuffle mat with healthy foods – air-dried brands like ZIWI Peak and Eureka are fantastic choices!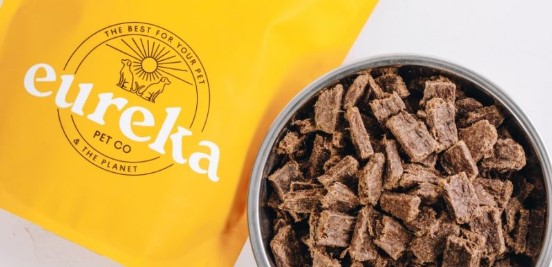 Note: The above links are too Aussie pet food review website Pet Food Reviews, a resource I've found very beneficial and trustworthy.
Other options, if you have a food dehydrator (an excellent investment for dog treats), is to dry bits of chicken and other meats, as these are fantastic for a snuffle mat and super healthy.
I have a food dehydrator myself, and it's paid off tenfold when you consider the cost of dried treats for cats and dogs which are ridiculously expensive.
Different types of snuffle mat
I'll make some recommendations shortly for the best snuffle mats (in Australia) – my K-Mart mat has been fine, but there are definitely better options.
First, you may want to consider what type of snuffle mat you want. Like most boredom buster products there's all manner of styles – some to benefit your dog, others to benefit you!
Basic snuffle mats – These are simple, no-nonsense snuffle mats. Compared to a regular bowl these are definitely a step up for your dog.
Puzzle snuffle mats – These are more interactive for your dog, with more complex shapes and patterns, and multiple layers to make some treats harder to seek out than others. These cost a little more, but the benefit is they challenge your dog far more than the basic mats.
Lick mats – These use soft rubber or silicone instead of fabric, which means you can spread them with peanut butter, yoghurt, mince, or yucky stuff like guts and organs (good for your dog!). Obviously these get mucky quickly and require more cleaning, but they're great for keeping an anxious dog occupied for longer (good option if your dog has separation anxiety).
Foldable snuffle mats – These are targeted at those who travel with their dog, so if that's you, you may want one of these too! They don't take up much space, and will keep your dog happy in a strange bush environment.
Eco-friendly snuffle mats – Like everything these days, there's an eco-friendly option to make you feel happier about saving the planet. These are made from recycled fabrics, at a greater cost to you. Your dog won't care, as they only care about themselves, not the Earth.
Recommended snuffle mats in Australia
Paws for Life Snuffle Mats
I highly recommend the Paws for Life snuffle mats, simply because they have the best reviews and feedback from other dog owners. They're beautifully coloured (for your benefit), but are durable, easy to clean, and are a step-up from the basic mats (like my one from K-Mart).
Paws for Life snuffle mats are available at PetCircle, and at the time of writing cost the same as the K-Mart ones!
You can see the quality of these snuffle mats in the photo below: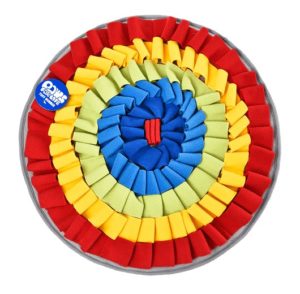 K-Mart Snuffle Mats
I have to recommend these as I've personally found them to be okay, and for most of us Aussies are easy to get hold of – K-Marts are everywhere, aren't they!
That said, when you compare the quality of the K-Mart Lion Snuffle Mat (pictured earlier), to the Paws for Life design above, it is easy to see which your dog will get the most fun from.
My K-Mart mat has lasted longer than I expected, but my Border Collie is more delicate with her "toys" than many other breeds will be. If you have a dog who chews up everything, then invest in a Paws for Life, otherwise you'll find the K-Mart mats still do the job.
Foldable Snuffle Mat at Pets Kingdom
I confess to not trying one of these, but they seem to be the best foldable snuffle mats for campers.
Available at Pets Kingdom, these use a drawstring to pull them closed into a little bag. This is great for keeping any remaining treats contained during transport, whereas with a regular mat they can drop out into crevices in your car – unless you shake them out first!
The downside of foldable snuffle mats being the cost, with the Pets Kingdom mat being four times the cost of the above two recommendations at the time of writing.
You must clean and maintain a snuffle mat – Or Else!
I hate cleaning, which is the one thing I dislike about snuffle mats! But you'll need to make this part of your routine as cleaning snuffle mats is essential for the health of your dog.
The process I use is as follows:
Shake out any excess food and treats as you don't want these clogging up your sink or washing machine. Where you shake them out is up to you, but as my kitchen floor is clean and the ZIWI Peak and Eureka foods I use are quite chunky, I shake them out in the kitchen – then my dog finishes them off.
I wash the snuffle mat in cold water, in the sink. I don't use any chemical detergents, just water. Some snuffle mats are machine washable, but in the interests of longevity it's best to use cold water and a gentle cycle.
Hang dry your snuffle mat to air dry. If you use a dryer, particularly for the more basic less-durable snuffle mats, you'll find they shrink and fall apart in no time.
Clean regularly as this is the best way to keep the snuffle mat as clean as possible, with the benefit of this being your dog's health. I clean mine daily, but depending on what food you use it may be fine to skip the odd day. Routine is good with this one!
Safety concerns
There are some important safety concerns you must consider. As with most "toys" or boredom busters in Australia, they can range from durable to completely terrible.
Here are some safety tips for using snuffle mats with your dog:
Keep your dog under a watchful eye to make sure they don't start chewing and eating the mat itself. This is especially the case if your dog is new to snuffle mats, and always keep in mind parts of the mat may be a choking hazard.
Use appropriate food and treats, especially if you start using the snuffle mat most of the time. As I always say, focus on high-quality healthy treats for your dog as a carnivore (it's always beneficial to consider your dog a carnivore rather than an omnivore).
Check the snuffle mat for damage every time you use it, and if you find any damage throw it in the bin and buy another one. My K-Mart mat has lasted a year, and for $15 I've definitely got my money's worth. At that price they're better to replace than risk your dog consuming big bits of fabric.
Keep them clean. You already know the risks of eating from a dirty plate, so think of a snuffle mat as your dog's plate.
How to make your own DIY snuffle mat at home
I'm not big on making stuff myself. I've grown up in an era of readily available products, which I'm sure isn't a good thing.
That said, making a snuffle mat at home can be a fun and rewarding task, and it's always nice to give our dogs homemade gifts!
Here's how to make a snuffle mat at home:
What you will need:
Rubber mat with holes (for drainage)
Fleece fabric (in multiple colors)
Scissors
Ruler
Marker
Pen
Rotary cutter (optional)
Cutting mat (optional)
How to make the snuffle mat:
Cut the fleece fabric into long strips, ideally with a width of around 2 inches.
Cut the strips into smaller pieces. The size of the pieces can vary, but 5-6 inch pieces work well.
Fold each piece of fleece in half lengthwise, in a "V".
Take the folded piece of fleece and loop it through one of the holes in the rubber mat. Pull the ends of the fleece through the loop to secure it to the mat.
Repeat this process with different colors of fleece until the entire mat is covered.
Use scissors to trim the fleece ends to create a tidy (and professional) look.
Shake the mat to remove any loose fleece pieces before letting your dog go wild!
The above are guidelines, but it's worth considering the size of your dog as you can vary the size of the mat and fabric strips appropriately.
I recommend supervising your dog while they use your homemade snuffle mat just to make sure.
Enjoy your snuffle mat!
Hugs,
Gina & Maisy (The Snuffle Mat Pro!)