Personalised dog harnesses are one of the best and most practical gifts you can buy any dog owner, even if you buy one yourself, for your own dog.
Feast your eyes:
The above harness is a personalised EzyDog harness. With EzyDog it's possible to buy your own custom label (or labels!), but it's not the only brand of dog harness on offer.
Let's take a look at personalised dog hanesses in Australia:
The best personalised dog harnesses (in Australia)
#1 Top Pick – EzyDog
EzyDog has to be the top pick for personalised dog harnesses simply because they're the most recognised brand and the quality is excellent.
You've probably seen the brand "EzyDog" on various collars and harnesses in the dog park, and if you ask the dog owners you'll get positive feedback.
In the photo above you'll see Harley sporting an EzyDog Express Harness with customised label, but I would recommend spending another 10 bucks or so on the EzyDog Convert Harness.
The benefit of the Convert harness is it's that little bit more comfortable. It's also the best dog harness to prevent matting or pulling.
Buddy loves his EzyDog Convert harness:
A personalised dog harness from EzyDog requires you to make two purchases – the standard harness (either the Express harness or Convert harness), and then the custom labels you desire.
A standard harness comes with the standard "EzyDog" label, fitted as a Velcro patch.
With custom labels you also have two options. The first is to choose from the pre printed side label range, which is your cheapest option:
The second option is more costly, nearly as much as the harness itself, but this is where you can really personalise your dog harness: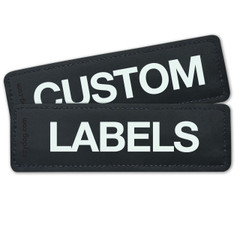 The downside of the EzyDog custom labels is you only have three colours to choose from – black, dark green, or brown, all with white text.
That said, the labels are very high quality and easy to interchange on the harness.
The EzyDog harnesses themselves come in a variety of colours, so you're not limited to black. The blue Convert harnesses with brown labels are a stylish choice, and the purple Express harness is great for characterful dogs!
Green camo is, of course, a popular choice. You also have red or grey, which are handy if your dog supports Labor or Liberal.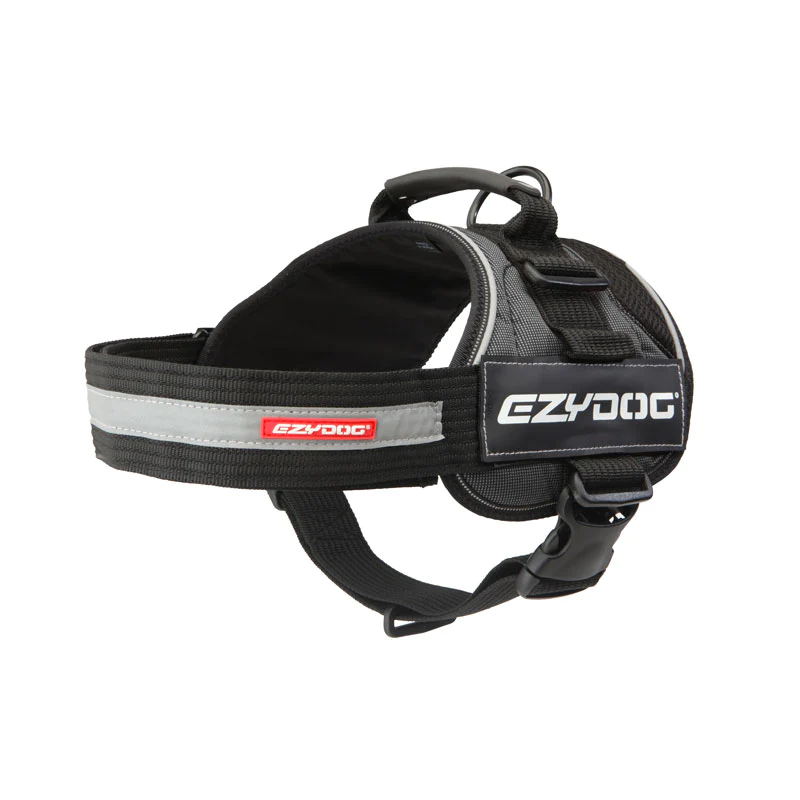 A great idea is to buy one set of custom labels with your dog's name, and for a few more dollars get a set of "DO NOT PAT" labels for when you're tired of people stopping you in public to pat your dog!
Oh, and "SERVICE DOG" labels are handy for getting your dog into places they're otherwise not allowed. Of course I don't do this, and I wouldn't recommend you do either. I just thought I'd, er, mention it…
#2 Worthy Pick – Pawezy
The Pawezy dog harnesses aren't as good as the ExyDog harnesses, but they're slightly cheaper, and the range of vibrant colours and designs are really good too.
If you're planning on walking your dog for long periods, training them to walk beside you, or plan to have them in a harness for long periods, opt for EzyDog. If you're after a more colourful harness which is perfectly fine for trotting your pooch around the park, Pawezy may be for you.
What I love most about Pawezy harnesses is the vibrant colours – pink, sky blue, orange, or even pink, blue, or regular camouflage.
Here are two options from the personalisable Pawezy range:
Like with EzyDog, the Pawezy personalised dog harnesses require two purchases – the harness itself, and a customised labels (about $20 at the time of writing).
Pawezy do not offer the cheaper option of pre printed labels, which means EzyDog harnesses will work out cheaper if you want something like a THERAPY DOG or RESCUE DOG label.
One positive comment from people who have bought Pawezy dog harnesses are how beneficial the night-reflective stitching is. Oh, and once you figure out up from down, it's also easy to put the harness on or take it off.
Where to buy a personalised dog harness in Australia
The EzyDog brand of dog harness is available at many retailers – Petstock, Petbarn, My Pet Warehouse, and Vet-n-Pet Direct.
Paweze are only available directly from their website, which is the case for most personalised dog harnesses.
We've tested the Paweze brand, so you can be assured it's a good make. We haven't tested other cheaper dog harnesses, so err on the side of caution as some may be uncomfortable for your dog.
If you want guaranteed quality, it has to be said EzyDog is the most tried and tested, and you won't be disappointed.
The benefits of a personalised dog harness – in case you need convincing!
We discuss the benefits of dog harnesses at length on the full guide, but here's a quick recap of the benefits in general:
Better control of your dog
A much easier way to train your dog to walk on a leash
More comfortable than a lead
More safe and secure
Healthier for your dog with less risk of choking and neck strain
Dog harnesses are more durable than leads
On top of those wonderful benefits, a personalised dog harness offers you much more:
Your individual style – Choose from unique patterns, colours, and designs which match your dog's personality.
Add your dog's name or contact information – Great for identification, quirkiness, and in case anyone forgets your dog's name.
A perfect unique gift – A gift any dog owner will love, appreciate, and win you so much kudos!
Convinced already?
I bet you are!