If you've come here from the Boredom Busters page you'll know already this is the ultimate garden feature for your dog.
Why?
Filling it with sand and hiding toys and chews is great fun for your dog ✔️
Filling it with water can save your dog from hot summer days ✔️
On this page we'll look at the benefits of having a doggy pool and where to pick one up super cheap! If you want deluxe or DIY options we'll cover those too!
What are the Benefits of a Doggy Pool?
When a dog "shell pool" can be bought for as little as 20 bucks, it's a no brainer when you consider the benefits:
On hot Aussie days they can really prevent your dog getting too hot.
Dogs love to play, and shell pools make a great boredom buster (whether you fill them with water or sand).
Filling them with sand means you can hide their chews and toys as a fun game for them to play!
Small pools are safer for your dog, and they love to lie in small, shallow pools.
Some dogs love to play in real swimming pools, but that's not a great idea due to chlorine.
Shell pools are super cheap, easy to move, and refill.
The Best Dog Shell Pools (in Australia)
I'm sure you've decided a dog shell pool is a great idea, so here are some tips where to buy one locally. They don't even cost much!
Most Kiddie Pools are good enough for dogs as long as they're plastic. Inflatable pools won't withstand your dog's claws, so avoid those. Cheaper shell pools usually use thinner plastic which can break, so way up price vs. durability.
Here's some good Aussie options:
Dog Shell Pools in Bunnings!
Bunnings sell everything these days, even pet stuff. They have a few shell pools which are great for dogs, including this green option: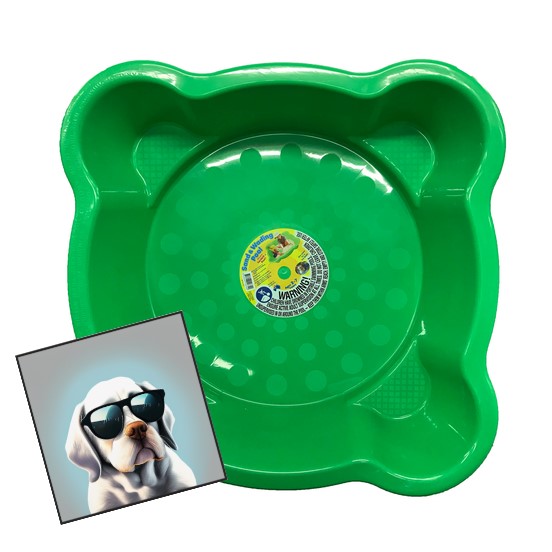 Whereas it may not be "green" in the SAVE THE PLANET sense, it's definitely cost effective at just over 20 bucks for an 88cm square pool. Being 22cm deep it will be easy for any dog to get into, and just deep enough to keep cool in water or fill with sand.
The tradeoff is durability, but at that price who cares?
Dog Shell Pools in BigW!
If you think the Bunnings option above is too expensive, then turns out BigW stock the same make of clam shell pool, but in BLUE!
Fancier Dog Pools!
There's an Aussie company who specialise in all manner of dog pools. Their website, surprisingly, is dogpools.com.au.
These guys offer all manner of pools, from the much-loved "BONE shaped" pool, foldable pools (great for winter storage), to custom-built pool decks for the poshest of dogs!*
I realise these aren't in the "cheap as chips" category as the Bunnings dog pool above, but they're more durable and nicer to look at.
* The custom-build dog pools are only available if you live in Brisbane.
Alternatives to Dog Shell Pools
A garden hose can be a fun garden game in summer, and can help keep your dog cool, but it's not as good as a shell pool which your dog can retreat to when they feel hot.
Better yet, invest in one of these Sprinkler Pads which your dog will have a lot of fun playing in. Your kids too if you have some!
These are a great way of providing cooling, fresh water, and fun times! They're cheap too!!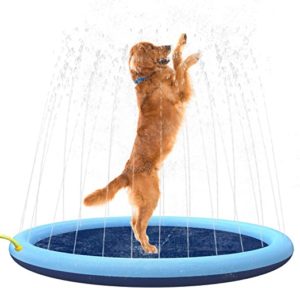 There's a few places you can buy these, but the cheapest I've found is this one on Amazon – does the trick!
More Permanent Dog Pool Ideas
For most of us a clam shell pool will be perfect, but I know for some people they want to go one step further.
Ponds are pricier, but they're more heavy duty and will last ages. All garden centers sell ponds in various shapes and sizes, including most Bunnings stores.
Water troughs may prove a savvy option if you have a retailer near you. They come in all manner of shapes and sizes, but price may put you off unless buying second hand.
Another option, which can be free if you're renovating your bathroom, is an old bath. These take a bit of leg work if you want the lip at ground level, but they do work and they are easy to drain and refill (I know someone who used some cheap plumbing to redirect the water to a nearby garden area).
Conclusion
Not much to conclude really. Dog shell pools are an awesome idea for hot Aussie summers!