Have you ever thought about dog friendly camping? No? Well, let's go camping! Whoo!
I can already smell the roasting marshmallows by the fire, that's making my mouth water.
The feeling of being out in the wild (close enough too anyway) and getting bitten a million times by mosquitoes, no matter how many cans of bug spray I use.
Telling spooky stories out in the wild preventing me from sleeping. On the plus side, I can just gaze up at the stars all night.
Hang on…
What about your fur-baby?
It's never easy leaving a loved one behind and left in the care of someone else, regardless of who it is. I always end up calling a few (hundred) times a day to check in.
So instead, take them with you! Yup! your read correct, lets go dog friendly camping!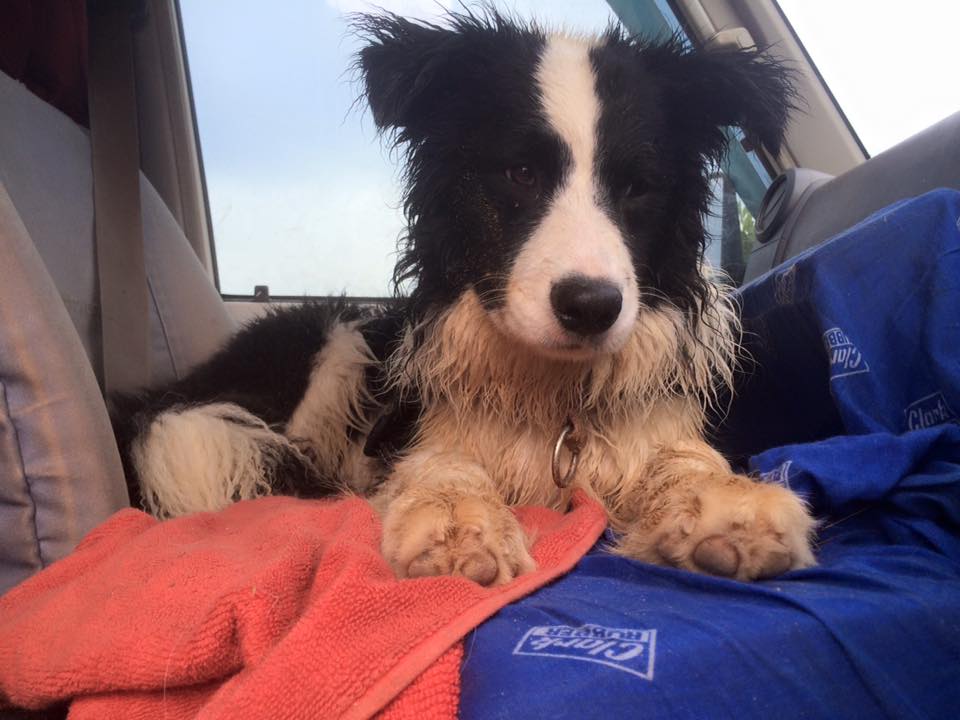 I already know what you're thinking. And I've taken away that stress of where you can stay that is pet-friendly.
So, I've created the ultimate guide of Australian camping sites that welcome our fur-friends.
All of the campgrounds and holiday parks that are listed below are all pet-friendly.
Tip – There are a few rules that you need to adhere to, so be sure to check out their website before making any bookings.
First Things First: Before you hit the road
There's two things I want you to do before you take your dog camping in Australia. Don't worry, they're simple things, but necessary given our sometimes risky environment:
Health Check and Vaccinations
Check with your vet before you head off. To ensure your fur-baby's vaccinations are up to date and that they are in tip-top shape to hit the road.
Pet Friendly First Aid Kit
You never know if you're going to need it and hopefully you won't, but having a first aid kit is great for a just-in-case purpose.
Dog Camping Etiquette
Now you've sorted the above health check, vaccinations, and doggy first aid kit, let's go through some dog camping etiquette so you're fully prepared:
⚠️ Scoop your Poop!
Nothing worse than seeing poop on the ground around the camp sites. So take some poop bags.
Identification Collar and Leash
Must wear an identification collar at all times and remain on a leash. We don't want any dog fights or dogs wandering off into other people's campsites.
Obedience
It's courtesy for your pet to be trained in simple commands like sit and stay.
No Barking
Continuous barking (yappy dogs that bark at every.single.thing) will annoy your fellow camp goers and also upset other dogs and wildlife.
Never Leave your Dog Unattended
Being in a new place and in unfamiliar surroundings your pooch may get scared or even lost if left unattended.
Most Importantly
HAVE A PAWSOME TIME!
---
Right then intrepid travelers, let's take a look at where you and your dog can go camping in every state of Australia!
Dog friendly camping in Australia by State:
Queensland (QLD)
Amamoor State Forest and Forest Reserve
parks.des.qld.gov.au/parks/amamoor
Beerburrum and Beerwah State Forests
parks.des.qld.gov.au/parks/beerburrum-beerwah
Benarkin State Forest
parks.des.qld.gov.au/parks/benarkin
Brooyar State Forest
parks.des.qld.gov.au/parks/brooyar
Byfield National Park, Regional Park and State Forest
parks.des.qld.gov.au/parks/byfield
Cordalba State Forest
parks.des.qld.gov.au/parks/cordalba
Inskip Peninsula Recreation Area
parks.des.qld.gov.au/parks/inskip-peninsula
Kalpowar State Forest
parks.des.qld.gov.au/parks/kalpowar
Moreton Bay Marine Park
parks.des.qld.gov.au/parks/moreton-bay
Tuan State Forest
parks.des.qld.gov.au/parks/tuan
Wongi State Forest
parks.des.qld.gov.au/parks/wongi
Esk Caravan Park
www.eskcaravanpark.com.au
Rainbow Waters Holiday Park
www.rainbowwaters.com.au
Manar Park
www.manar.com.au
Gold Coast Holiday Park
www.goldcoastholidaypark.com.au
Straddie Camping
www.straddiecamping.com.au
Gordon Country
www.gordoncountry.com.au
Murphys Creek Escape
www.murphyscreekescape.com.au
Borumba Deer Park
www.borumbadeerpark.com
Sommerville Valley Tourist Park
www.sommervillevalley.com.au
Neurum Creek Bush Retreat and Campground
www.ncbr.com.au
Queen Mary Falls Caravan Park
www.queenmaryfallscaravanpark.com.au
Tamborine Mountain Caravan and Camping Park
www.tamborine.info
Atkinson Dam Holiday Park
www.atkinsondamholidaypark.com.au
New South Wales (NSW)
Copeton Waters
www.nswchpt.com.au
Turon Gates
www.turongates.com
Wooyung Beach Holiday Park
www.wooyungbeach.com.au
Corindi Beach Caravan Park
www.northcoastholidayparks.com.au/corindibeach
Rover Park
www.roverpark.com.au
Wollondilly River Station
www.wollondillyriverstation.com
Norah Head Holiday Park
www.norahheadhp.com.au
Bonny Hills Holiday Park
www.northcoastparks.com.au
Levuka 4WD Park
www.levuka.com.au
Grabine Lakeside
www.nswchpt.com.au
Lake Burrendong
www.nswchpt.com.au
Lake Glenbawn
www.nswchpt.com.au
Wyangala Waters
www.nswchpt.com.au
Byron Holiday Park
www.big4.com.au/caravan-parks/nsw/northern-rivers/byron-holiday-park
Big4 Casino Resort
www.big4.com.au/caravan-parks/nsw/north-coast/casino-resort
Victoria (VIC)
Glen Cromie Caravan Park
www.glencromiereserve.com.au
Clearwater Caravan Park
www.clearwatercaravan.com.au
Wakiti Creek Resort
www.wakiticreekresort.com.au
BIG4 Bright Holiday Park
www.big4.com.au/caravan-parks/vic/victorias-high-country/bright-alpine-cabins-holiday-park
Big4 Castlemaine Gardens Holiday Park
www.big4.com.au/caravan-parks/vic/goldfields/castlemaine-gardens-holiday-park
BIG4 Shepparton Park Lane Holiday Park
www.big4.com.au/caravan-parks/vic/murray/shepparton-park-lane-holiday-park
BIG4 Hopkins River Holiday Park
www.big4.com.au/caravan-parks/vic/great-ocean-road/hopkins-river-holiday-park
BIG4 Swan Hill
www.big4.com.au/caravan-parks/vic/murray/swan-hill-holiday-park
South Australia (SA)
Melrose Caravan Park
www.parks-sa.com.au/caravan_park/250
Hillocks Drive (Butler's Beach)
www.hillocksdrive.com
Marion Bay Caravan Park
www.marionbaycp.com.au
Hahndorf Resport Tourist Park
www.big4.com.au/caravan-parks/sa/adelaide-hills/hahndorf-resort-tourist-park
Blue Lake Holiday Park
www.big4.com.au/caravan-parks/sa/limestone-coast/blue-lake-holiday-park
Discovery Parks – Port Augusta
www.big4.com.au/caravan-parks/sa/flinders-ranges-outback/discovery-parks-port-augusta
Discovery Parks – Robe
www.big4.com.au/caravan-parks/sa/limestone-coast/discovery-parks-robe
Naracoorte Holiday Park
www.big4.com.au/caravan-parks/sa/limestone-coast/naracoorte-holiday-park
Western Australia (WA)
Big4 Emu Beach Holiday Park
www.big4.com.au/caravan-parks/wa/south-west/emu-beach-holiday-park
Big4 Beachlands Holiday Park
www.big4.com.au/caravan-parks/wa/south-west/beachlands-holiday-park
Big4 plantation Caravan Park
www.big4.com.au/caravan-parks/wa/coral-coast/plantation-caravan-park
Denmark Ocean Beach Holiday Park
www.big4.com.au/caravan-parks/wa/south-west/denmark-ocean-beach-holiday-park
Dongara Denison Beach Holiday Park
www.big4.com.au/caravan-parks/wa/coral-coast/dongara-denison-beach-holiday-park
Sunset Beach Holiday Park
www.big4.com.au/caravan-parks/wa/coral-coast/sunset-beach-holiday-park
Seaspray Beach Holiday Park
www.seaspraybeachholidaypark.com.au
Discovery Parks – Lake Kununurra
www.big4.com.au/caravan-parks/wa/north-west/discovery-parks-lake-kununurra
Ledge Point Holiday Park
www.big4.com.au/caravan-parks/wa/coral-coast/ledge-point-holiday-park
The Pinnacles Holiday Park (now RAC Cervantes)
parksandresorts.rac.com.au/cervantes/
Dongara Denison Beach Holiday Park
www.ddbeachholidaypark.com.au
Dongara Tourist Park
www.dongaratouristpark.com.au
Murchison Caravan Park
www.murcp.com
Pink Lake Tourist Park
www.pinklakepark.com.au
The African Reef Beach Resort
www.africanreef.com.au
Leeman Caravan Park
www.leemanholidayunits.com.au
Northampton Caravan Park
View on Trip Advisor
Northern Territory (NT)
Pine Creek Railway Resort
www.pinecreekrailwayresort.com.au
Tumbling Waters Holiday Park
www.tumblingwatersholidaypark.com.au
Banyan Tree Caravan and Tourist Park
www.banyan-tree.com.au
Territory Manor Motel and Caravan Park
View on Trip Advisor
Knotts Crossing Resort
https://knottscrossing.com.au
Wycliffe Well Holiday Park
View on Trip Advisor
BIG4 Howard Springs Holiday Park
www.big4.com.au/caravan-parks/nt/darwin-surrounds/howard-springs-holiday-park
Ayers Rock Campground
www.ayersrockresort.com.au/accommodation/ayers-rock-campground
Curtin Springs Station
www.curtinsprings.com
Kings Canyon Resort
www.kingscanyonresort.com.au
Tasmania (TAS)
St. Helens Holiday Park
www.big4.com.au/caravan-parks/tas/st-helens-north-east/st-helens-holiday-park
Snug Beach Cabin and Caravan Park
www.snugpark.com.au
Seven Mile Beach Camp and Caravan Centre
www.hobartcaravanpark.com.au
Hobart Cabins and Cottages
www.hobartcabinscottages.com.au
Southport Hotel & Caravan Park
www.southportcaravanpark.com.au
Bronte Park Village
www.bronteparkvillage.com.au
Somerset Beachside Cabin and Caravan Park
www.somersetbeachside.com.au
Burnie Ocean View Motel and Caravan Park
www.burniebeachaccommodation.com.au
Strahan Beach Tourist Park
www.strahantouristpark.com.au
Riana Pioneer Park
www.pioneerpark.org.au
Abel Tasman Caravan Park
www.abeltasmancaravanpark.com.au
Leisure Ville Holiday Centre
www.leisureville.com.au
Queenstown Cabin and Tourist Park
www.westcoastcabins.com.au
Mersey Bluff Caravan Park
www.merseybluffcaravanpark.com.au
Crayfish Creek Van and Cabin Park
www.crayfishcreekecoaccommodation.com.au
Penguin Caravan Park By the Sea
www.penguincaravanpark.com.au
Zeehan Treasure Island Caravan Park
www.zeehancaravanpark.com
Beauty Point Tourist Park
www.beautypointtouristpark.com.au
Ross Caravan Park & Heritage Cabins
www.rossmotel.com.au
Hillcrest Tourist Park and Mini Market
www.hillcresttouristpark.com.au
Tomahawk Caravan Park
www.turu.com.au/parks/tas/launceston/bridport/tomahawk-caravan-park.aspx
Scamander Tourist Park
www.scamandertouristpark.com.au
Bicheno Caravan Park
www.discovertasmania.com.au/planning/find-accomodation/bichenoeastcoastholidaypark
Scamander Sanctuary Caravan Park
www.tripadvisor.com.au/Hotel_Review-g504323-d4112538-Reviews-Scamander_Sanctuary_Caravan_Park-Scamander_Tasmania.html
Big4 Ulverstone Holiday Park
www.big4.com.au/caravan-parks/tas/devonport-cradle-mountain-great-western-tiers/ulverstone-holiday-park