You may think they're a fad, but there are real scientific benefits in the design and fabric used for calming dog beds.
Perhaps your dog already has a cosy spot where they like to lie, which might be a nook, corner, or often a tight spot under the bed? The reason for this is to feel calm and safe, and calming dog beds do the very same thing with their doughnut shape (or cave shape).
Research has shown this style of dog bed not only provides your dog with a cosy place to sleep, but has real advantages in improving their health and wellbeing.
Let's take a good look, and I'll also recommend what you need to look for when buying one for your dog.
After that, you can curl up and take a nap.
What actually is a calming dog bed?
A calming dog bed, in simple terms, is a specially designed "nest" where your dog can feel optimal comfort and safety. When your dog feels safer and sleeps better, the health benefits are tenfold. More so if you have an anxious or elderly dog.
Calming dog beds are usually filled with orthopedic foam or memory foam. The reason for this is the bed will contour to the shape of your dog's body in their preferred resting position.
Supportive bolsters or cushioned sides can really help your dog feel comfortable.
With some beds you'll find fancy extra features such as cooling gel layers to help your dog stay cool on hot summer days. Some have special scents to reduce anxiety and stress, in an aromotherapy-kinda-way.
We'll look at some special features of calming dog beds in Australia shortly, as they may help you decide which one to buy.
Why would you buy a calming dog bed instead of a regular dog bed?
Here are some benefits of a calming dog bed over a regular bed:
Your dog will feel more safe, which allows them to feel more comfortable and secure.
Research has shown a calming dog bed will allow your dog to sleep better, which in turn will improve their overall wellbeing and health.
The additional cushioning and support can ease joint pain, so would be especially beneficial if your dog has arthritis, stiff joints, commonly suffers joint pain from exercise. Keep in mind our dogs often suffer "silent" joint pain which we fail to notice.
If your dog is anxious, it should give them an environment they feel safe in during stressful times. For example, when you have visitors, or when there are fireworks in the distance.
Some calming dog beds are made from cooling fabrics which will help your dog regulate temperature during cold winters or hot Aussie summers.
A good calming dog bed should save money in the long run by preventing unnecessary vet visits. In fact, the cost of a decent calming dog bed is likely less than a single visit to your vets.
Choosing the right calming dog bed in Australia
You have many options for calming dog beds in Australia, ranging greatly in price. So how do you know which one to buy?
I tend to read a lot of reviews from genuine people before I buy anything these days, and I encourage you to do the same.
You'll find "affordable" options in local stores, like the Pet Comfort Bed at KMART or the Tails Comfy Beds at BigW, but the positive reviews are more about the price point rather than real benefits from quality.
My recommendation is to opt for a reputable brand like Snooza (at My Pet Warehouse). The reviews speak for themselves, and if your dog will be as comfortable as my dog then you'll know they're worth the extra few bucks: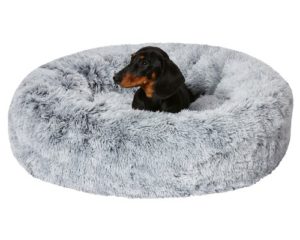 When you compare a brand like Snooza to other (slightly cheaper) brands the difference in quality is clear. Given this will be your dog's home-at-home it's not worth skimping, especially when a good bed will long outlast a cheaper bed.
I've found with cheaper beds (both regular and calming), not only do they lack comfort but the texture goes a bit funny as soon as you wash them. Snooza (and other good brands) are really easy to wash and are more durable.
Do you have a calming dog bed? What brand, and how have you found it?
Hugs!
Gina & Maisy